40 years of experience at the service of the customer
Trailers and semi-trailers
Thanks to the dynamism that characterises the production, Turatello has a variety of trailers and semi-trailers in a broad and diversified range.
With over forty years of experience, Turatello s.r.l. asserts itself as one of the largest producers of trailers for car transport. The production lines are differentiated by type of model from simple open trailer, to wagons and sheeted.
The solutions that a product of this type can offer are almost limitless, from the transport of one or more horses to transport of two cars, from setting up a mobile workshop to a camping area. Mini Trucks are not equipped in the same way as trucks.
40 Years of Experience
The basis of our success is an assiduous and constant research of quality that can be observed in the unique features of our products: captivating lines and always cutting edge, with solid, safe and resistant materials, and infinite possibilities of for customisation.
Trailers and Semi-trailers
Pandering to a passion for horses and racing cars produced since the 1970s, we managed to quickly win as an artisan company leader in the design and construction of horse trailers and carriages for the transport of cars and motorcycles. There were enough years because the production volume would overcome the thousand units produced each year. A very intense rhythm, which even in those periods of crisis that often pass through our sector are able to weaken; merit, this, the constant trust given by our customers, who see in the Turatello line products an expression of the excellence of Made in Italy.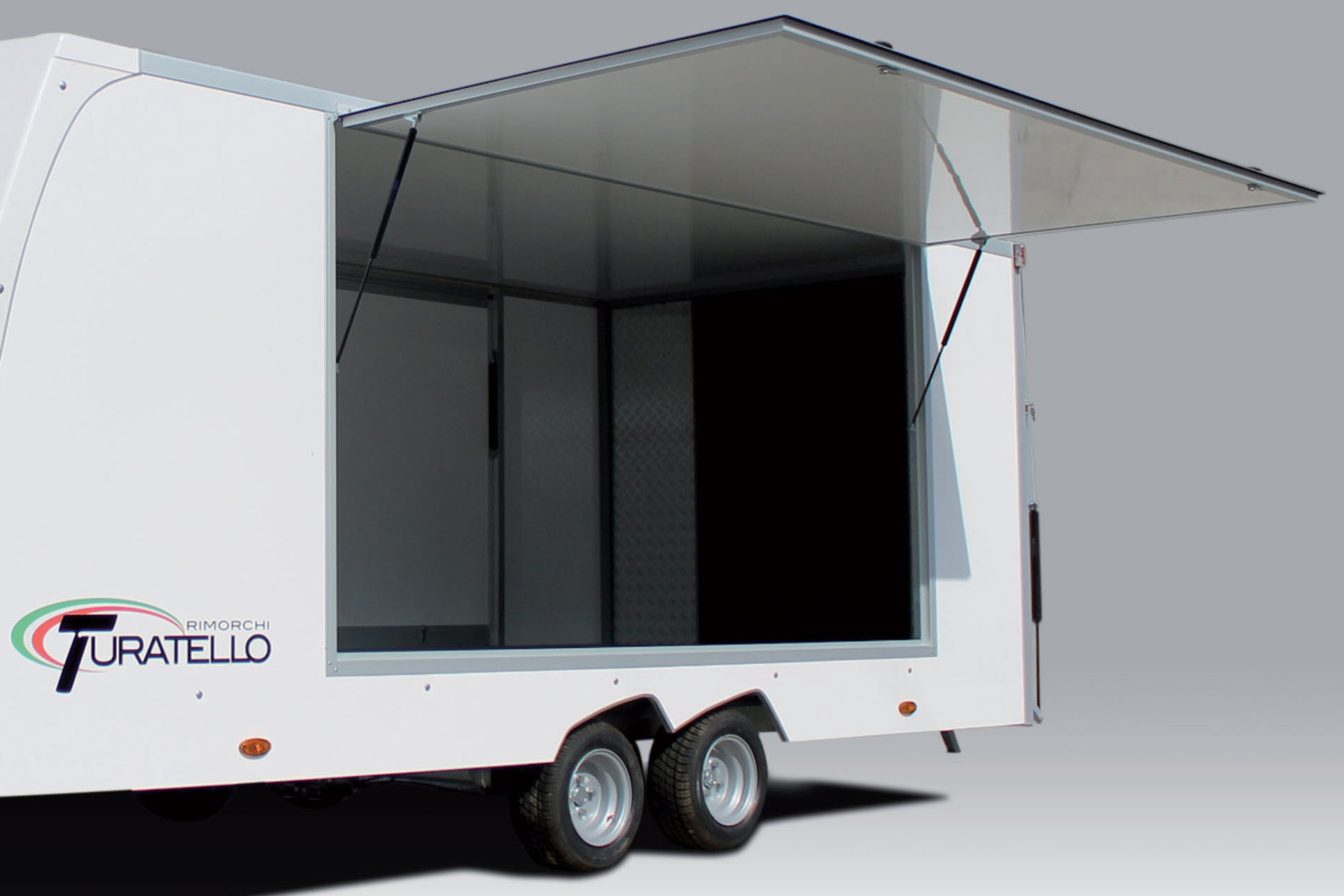 Trailers made to measure
Over the years, Turatello has specialised in the production of made to measure trailers for the transport of goods by providing box body semi-trailers for license B-E, trailers for the transport of go-karts and furnishing for trailer shop use, but also in the manufacture of "made to measure" trailers, i.e. customised products – size and features – based on instructions and the needs of individual customers.
Legal Headquarters
Via Caduti sul lavoro, 24
35010 Villafranca Padovana (PD) ITALIA
Opening Hours
Mon: 8.30 12.00 – 14.00 18.30
Tue: 8.30 12.00 – 14.00 18.30
Wed: 8.30 12.00 – 14.00 18.30
Thu: 8.30 12.00 – 14.00 18.30
Fri: 8.30 12.00 – 14.00 18.30
CAMPER LAND 3000
Via Serenissima, 28, 25129 Brescia BS, Italia
Tel: +39 0302501837
MOTOR EXTREME
Via Filippo Turati, 21A, 40026 Imola BO, Italia
Tel: +39 3278306520
QUAD SERVICE TEAM
SP27, 8, 26847 Maleo LO, Italia
Tel: +39 3406754043
TURATELLO SRL
Via Caduti del Lavoro, 24, 35010 Villafranca padovana PD, Italia
Tel: +39 0499070126
MAGAZZINI DELL'AUTO
Corso Enrico De Nicola, 66, 10129 Torino TO, Italia
Tel. 011 3182770
CENTOMESTIERI
Via Eridano, 2505, 45032 Bergantino RO, Italia
Tel: +39 0425805538
ACCESSORI PUGLIA
Via Trinità, 220, 84036 Sala Consilina SA, Italia
Tel: +39 097545488
RACETRAILER COM
Industrieweg 106b, 7903 AK Hoogeveen, Paesi Bassi
Tel. + 31 (6) 2547903
JOHEN 70
Mühlgasse 1, 2353 Guntramsdorf, Austria
Tel. +43 699 123 90 442
TURATELLO IRELAND
Mullinavat, Co. Kilkenny, Irlanda
Tel. +353 51 898 692
SOCKO TEKNIK A/S
Egholmvej 8, 7160 Tørring, Danimarca
Tel. +45 7585 2323
TURATELLO TRAILERS LTD.
22A Dunchurch Rd, Rugby CV22 6AA, Regno Unito
Tel. 0044 7432 112816
RIMOTEC
Via Lugano 2, 6710 Biasca, Svizzera
Tel. +41 (0) 91 862 25 88
M-F MOTORSPORT KFT
Budapest, Krajcár u. 8, 1222 Ungheria
GT STORAGE SOLUTIONS
Scozia, Regno Unito
Tel. 07825222372
SPEN D.O.O.
Cesta Zore Perello – Godina 2, 6000 Koper – Capodistria, Slovenia
MILECQ TRAILERS
Rue Jean Borg 74, 4624 Fléron, Belgio
Tel. +32 475283122
FASTLINE LOGISTICS S.R.O.
Thunovská 179/12, 118 00 Praha-Malá Strana, Repubblica Ceca
Tel. 00420 775200200
SPECTRA GMBH
Lorenzstraße 11, 76297 Stutensee, Germania
Tel: 07244 | 20 50 30 30
ボートプラザコーポレーション
2 Chome-638-3 Togasaki, Misato-shi, Saitama-ken 341-0044, Giappone
Tel. 048-948-0355
SARL Garage de Leschaux - Garage Dunand
140 rue Guillaume FICHET
74130 Petit-Bornand
Tél : 04.50.03.52.72
Fax : 04.50.03.54.14
Email: info@garagedeleschaux.fr
www.garagedeleschaux.fr
http://vente.garagedeleschaux.fr/
CHECK HANDELS GMBH
Wirtschaftspark 19 – A-9130 Poggersdorf
Phone: +43 660 77 88 99 8
Fax: +43 463 265 526 – 7053
Mail: office@anhaenger-zentrum.at
DB CUSTOM GARAGE
Dragan Meseldzija
Poligono industrial Nueva Campana, Nave 103, URB.
Nueva Andalucia 29660 (MA)
dragan@dbcustomgarage.es
www.dbcustomgarage.es